YOUR ENGLISH IMMERSION STAY IN HASTINGS
An Intensive, Full Immersion English Course,
In Fabulous Surroundings
Dialogue UK English Language Courses
Tatiana Russell and the Dialogue UK Team warmly welcome you to their 'One to One' Intensive English Courses In Hastings, England.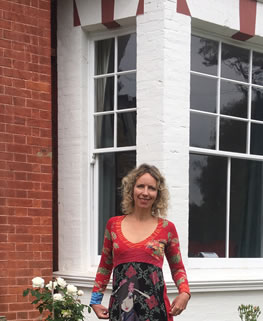 Tatiana has been teaching full immersion, English courses for over ten years. She therefore has the expertise to create a 'one to one' English course, tailor-made for you to achieve your goals.
In just a few days your English and your confidence in your speaking will greatly improve.
COURSE STRUCTURE
Your Lessons
Your intensive one-to-one English course begins with a detailed assessment of your level, objectives and learning style. The course will then be designed especially for you, based on this assessment.
All your lessons are one-to-one and tailored to your specific needs.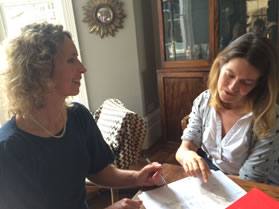 They focus simultaneously on improving:
general comprehension, grammar, vocabulary, listening and pronunciation.
oral and written communication skills in a specific field
( banking, sales, environment, business ...)

Our unique coaching method ensures rapid progress in your listening comprehension and speaking skills, leading to an immediate gain in your confidence to communicate in English.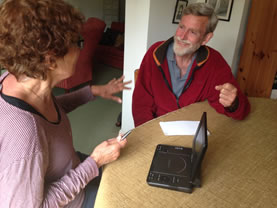 MEALS & SELF-STUDY TIME
At Dialogue UK we believe that your one to one personalised course continues outside of your lessons too. We welcome a maximum of two students a week to ensure complete immersion and personalization at all times.
A teacher will always be accompanying you during your breaks and meals times so that you can continue to practice your English in a relaxed and friendly atmosphere.
You will receive written and oral exercises targeted to your specific needs, everyday, for your self-study time. This is essential in consolidating and activating what you have learned in your lessons.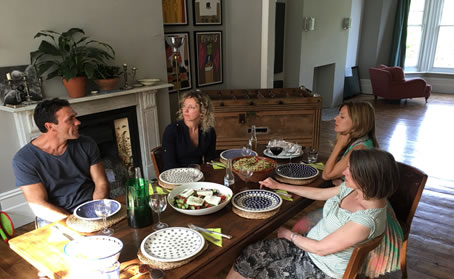 AFTER YOUR STAY
The end of your English immersion is not the end of your intensive English course. You will leave with:
Your personal course manual and CD to continue to revise and fully assimilate all your course material.
A whole new approach to learning, and an exciting set of learning tools and strategies
MEET THE TEAM
Tatiana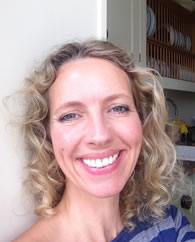 Tatiana Russell has been teaching full immersion, English courses for over ten years. She has a Bachelor of Art Honours Degree from London University In French, Drama and History. She used to run 'Le Club Francais' French Clubs for children. She also ran a 20th Century Furniture Business with her partner Matt. Matt and Tatiana have two children. Tatiana is also currently studying Hypno-Psychotherapy.

Nick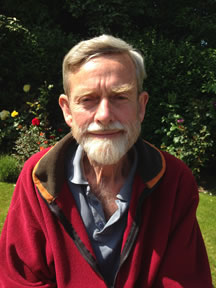 Nick Russell has spent many years working overseas with the UN, International Red Cross and other organisations. He worked as a country representative, project manager and adviser for a range of humanitarian and emergency operations. Throughout his time with the UN and The Red Cross Nick has given many English language classes to mature students. Nick studied engineering and modern languages at University and speaks fluent French, fair German and Spanish. Nick now lives in Fairlight, near Hastings, where he has been teaching English conversation to private clients. Nick has recently joined the Dialogue UK Team.
LOCATION
The lively town of Hastings is a fabulous location for your English Home Stay. Not only is it steeped in History, with its Medieval Old Town and Castle, it also offers a buzzing centre for live music and the creative arts.
For those who enjoy nature, Hastings is nestled on the stunning East Sussex coast, with beautiful cliff or beach walks in both directions.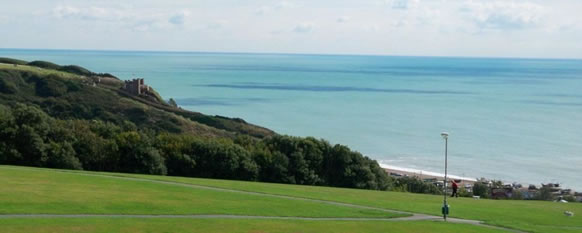 YOUR HOMESTAY
The fabulous Victorian townhouse, which will be your home during your stay, has a lovely private garden and is just 7 minutes walk away from the beach and 3 minutes from the train station.
Your room is comfortable and fully equipped with a desk, CD player/radio, television and DVD player and free Wi-Fi access.
You'll have a private bathroom (washbasin, shower and toilet).
For those who also spend their weekend at Dialogue UK, there are other interesting towns to be discovered nearby, all easily accessible by train: Rye, Canterbury, Brighton and of course London, which is one and a half hours away by train.